It all started when a friend of mine went to a Thai cooking class. He was so excited that he'd just made a Thai Green Curry. I'd recently been making my own curry pastes but more for Indian curries, so I asked if he could send me the recipe. To my surprise, this cooking class involved using a jar of bought curry paste and pre-made fish balls. I'm wondering what kind of cooking class my friend actually attended! Pre-made ingredients are certainly not to be dismissed, often being a saver and quick win, but I was really after more.
I have lightly attempted making Thai food before but never from scratch. As I'd recently started making Indian curry pastes from scratch, it seemed sensible to try my hand at Thai curry pastes too.
My first attempt was a Massaman curry a while back but I very quickly failed as I found that I couldn't get all the ingredients from my local Tesco. Oh, how amateur of me! So I ended up buying a jar of paste since my heart was set on a Massaman that night. My friends' Thai cooking class encouraged me to give Thai cooking another try, but with the right ingredients this time.
Key ingredients
There are a few key ingredients in Thai cuisine. I started with a fixation on making Thai Green Curry, and due to the quantities I bought of each ingredient, I found myself trying a fair few dishes with Thai influences in an effort to use up my fresh ingredients. These delights (and mishaps) will feature in part two of My Little Thai Adventure.
I found the main ingredients for Thai lovelies are:
Galangal
Kaffir Limes and Leaves
Lemongrass
Shrimp Paste
Coriander Root
Palm Sugar
Galangal
Galangal
I didn't know what galangal was before, and was naive to think that I could find it in my local Tesco Extra which seems to be attempting to stock a few bits out of the norm. They have dried galangal slices, but fresh ingredients are always nice, right?
Galangal is from the ginger family. It looks similar with it being a root and knobbly, but is much paler in colour and tougher to cut through. Popular in Thai and South-East Asian cuisine, it has a peppery flavour and it has a much cleaner and fresher taste than ginger.
I managed to purchase a few of these from a visit to Loon Fung in Chinatown, London. I had to buy a pack of them containing about six pieces, since they were not sold singularly as with ginger in mainstream supermarkets. I only needed half a piece for my Thai Green Curry!
Kaffir Lime and Leaves
Kaffir limes and leaves
Now, this I had heard of before. I had some Kaffir lime leaves in my cupboard from a previous attempt at cooking something Thai related. It has a really fresh limey scent.
I have read that Kaffir is an offensive term and the proper term should be Magroot. Though Kaffir is so commonly used rather than the latter, that it seems pretty accepted. Kaffir is used on all the packaging so I think it's a safe term to use... I hope.
Both the leaves and fruit itself are used in a lot of Thai cuisine. The leaves are stocked in many supermarkets in dried form and this is what I have used. I didn't manage to locate any fresh leaves unfortunately.
I hadn't managed to find any Kaffir limes either, and a normal lime is often used as a substitute. However, authenticity does not take kindly on substitutions!
Lemongrass
Lemongrass
Ah, the lovely aroma and freshness of lemongrass. I've tried the delightful infusion of lemongrass in various foods and drinks. Lemongrass tea is so fresh with citrus notes, and I've recently tried a Lemongrass Collins cocktail from LAB in Soho not too long ago.
Acquiring fresh lemongrass is another tricky one. I defaulted to Tesco again since that is where I do most of my grocery shopping anyway. They stock fresh and dried lemongrass. Again, I would opt for the fresh ingredient but I do hesistate on the quality of it. The outer parts of the stalks seem dry and overall, quite short. Waitrose is similar, perhaps slightly better, but I found what seemed to me a much higher quality version of it in Chinatown. The stalks are longer, they look like they have a bit more life in them, and a firmer to the touch. I'm still convinced I can find better, but I'll make do for now.
Shrimp Paste
I failed miserably at acquiring this when attempting a Massaman curry, which is partly why I ended up buying a jar of curry paste instead.
So, after I went for dim sum (oh, how I love dim sum) at Tai Pan in Liverpool not too long ago, I checked out the Wing Hing Lung store downstairs. Why hello there, shrimp paste! My Mum warns me that it's a stinker and how true that turned out to be...
Coriander Root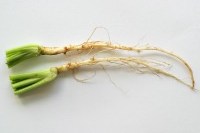 Coriander Root
Fail. I never managed to acquire this in the end and used coriander stalks instead. A few recipes I had researched seemed to suggest either / or were fine, so i hope I didn't do too much wrong with this!
Palm Sugar
Easy to acquire from my local Tesco Extra. I wish I had bought it from the Wing Hing Lung store as I remembered seeing it there in a bigger jar. Each recipe hasn't required more than two teaspoons but I think it would have been cheaper to get it from Wing Hing Lung than the speciality foods section in Tesco.
You try and you learn
The moral of the story really is that you can't find everything at your local Tesco, however much you might wish for that to happen. Go to an Asian supermarket, or it may be useful to buy online. I haven't tried purchasing online yet but I've read that you can buy good produce on some websites.
Maybe don't go up and down the country like I did. I just happened to be at a Chinese supermarket in Liverpool during a visit and thought to buy a few things. Must explore more places around London!
Keep your eyes peeled for Part Two of My Little Thai Adventure where I will be putting my Thai ingredients under a bit of heat and telling you all about how I get on.